Welcome To The Healing Academy Natural Healing School
Thank you for visiting the Healing Academy. We are a natural therapy school in New York City. Whether you are seeking cutting edge instruction on natural healing therapies, or you would simply like to experience an alternative healing session for yourself.
The Healing Academy is a kind of "massage school", but we prefer to call it a "bodywork school" because of the wide range of healing therapies that we teach here. At the Healing Academy you can learn a variety of alternative therapies, such as deep tissue massage, back pain massage, MicroCurrent therapy, biofeedback therapy, energy healing and a great deal more.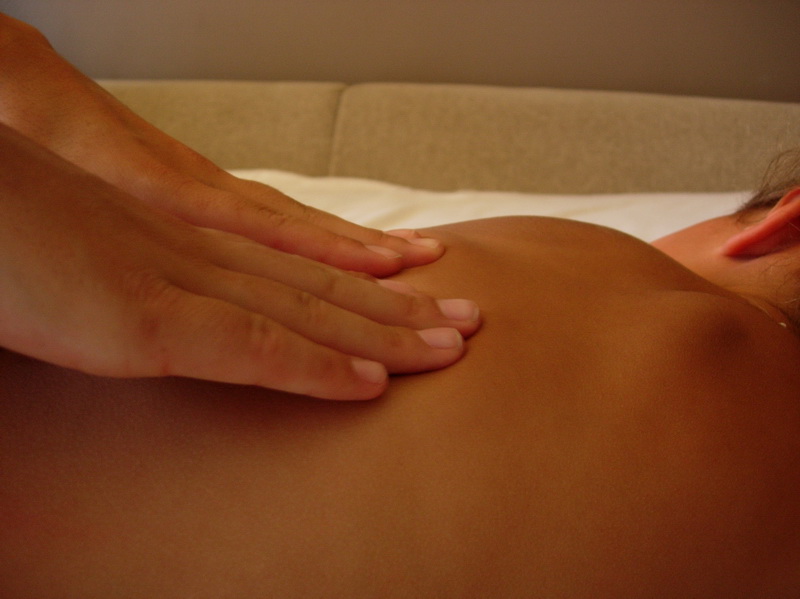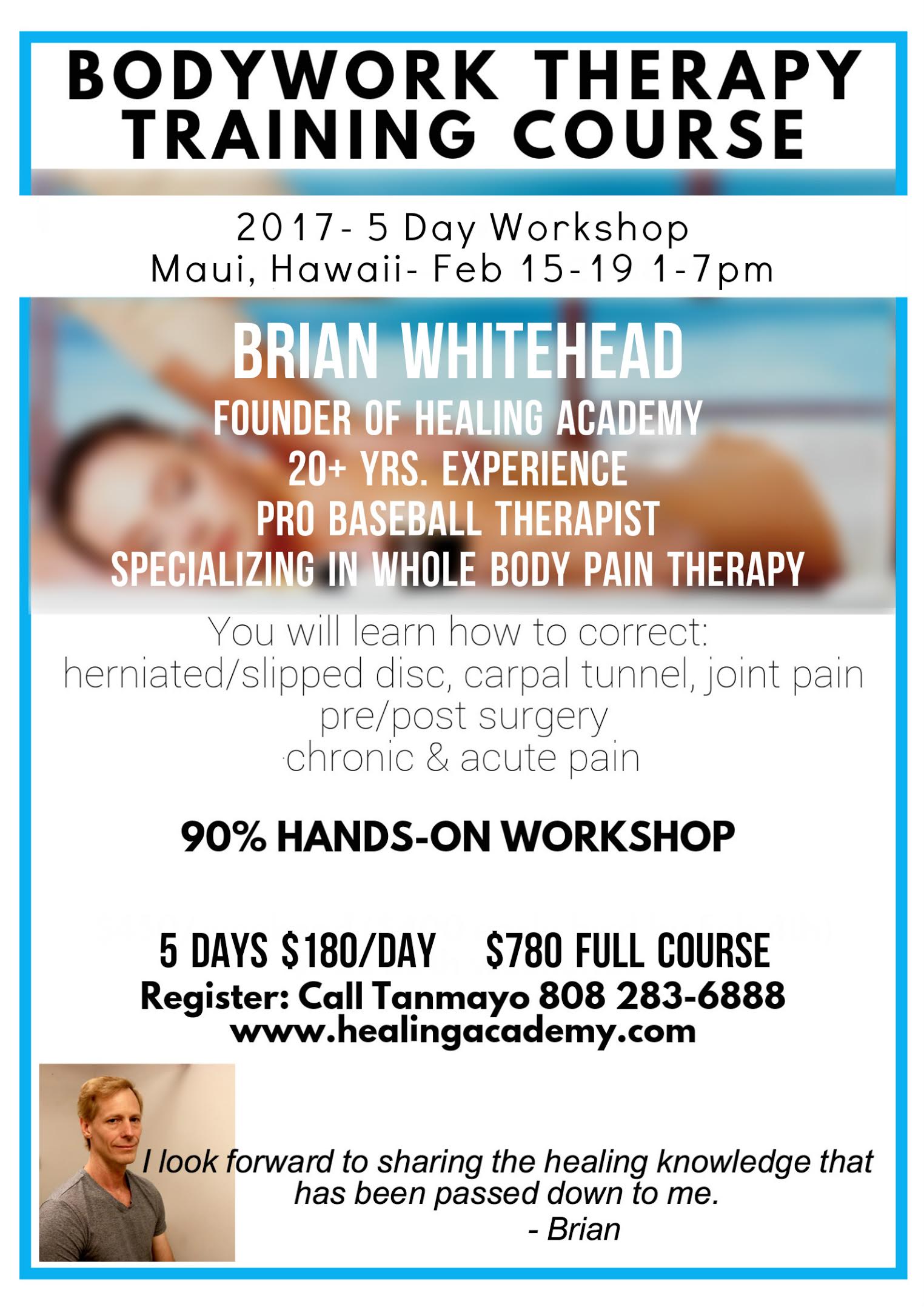 Upcoming Course:
5 Day Workshop - Maui, HI
February 15-19th, 2016
In this course you will learn:
How to correct herniate / slipped disc

How to correct carpal tunnel

How to correct joint pain

How to correct chronic and acute pain

How to treat a patient for pre/post surgery

How to make develop your hands so you get a true healing experience for your client

Learn how to get our of your head so you can hear what the body needs

and much more...
Instructors:
Brian Whitehead
Registration is limited, click below for the early bird special.
>> Click here to learn more <<
Bodywork Courses And Alternative Therapy Classes
Our primary natural healing course is called the "Art Of Healing" course, and is designed to provide the student with a unique variety of healing knowledge and bodywork skills that would be hard to find at any ordinary massage school or bodywork program.
In addition, we offer other specialized courses which were created to supplement and enhance whatever modality of healing therapy you are currently practicing. These are sophisticated training programs with a high degree of personal instruction, designed to help you refine and perfect your healing abilities.
The Healing Academy's Art of Healing Course is designed to improve your healing skills as a Massage Therapist, Physical Therapist, Chiropractor, or any other healing or body-work practitioner. You will come away from this course with a whole new outlook on improving your client's health and well-being. It will help you find your inner guidance and teach you how to feel and listen to your client's body.
Rave Reviews on Brian's Work
"After going to Brian Whitehead for treatments, several things have been fixed for me: Insomnia, Digestion, Anxiety, Light Sleeping,Coffee..."
Read More Here
"I had lost 80-90% use of my arm... Now my arm is almost 100% cured!"
Read More Here
"I am a disabled Registered Nurse with a Bachelor's Degree in Nursing. I have had my own pain clinic for several years. Having 4 herniated and 3 bulged discs... After being helped by Brian, I can say without exaggeration, that my back is the best that it has been since my injury..."
Read More Here
"I was in an accident with a disposal truck that caused my right hip to dislocate and push past my pelvic bone, fracturing it and also fracturing my right knee cap... One of my customers suggested that I see Brian... I no longer feel grinding in my joint. It is the best pain management program I could have ever hoped for. Thank you so much Brian!!!!!!!!!!!!!!!!!!!!!!!!!!!"
Read More Here
View more of Healing Academy's Testimonials Here.
Healing Academy Articles
My goal here is to share healing information and actual stories to give my readers an idea of what is possible when we develop our healing gifts and tap into "Source", listening to the messages we receive while performing bodywork.
Go here to read and tap into the source of healing.
Healing Massage, MicroCurrent Therapy, and QXCI/SCIO Biofeedback Therapy
Perhaps you arrived at our site because you are interested in alternative healing therapies to improve your own health and well-being, or to help an important person in your life. In addition to teaching other health practitioners and therapists at The Healing Academy, Rev. Brian is still actively providing personal therapy sessions in New York. Rev. Brian is currently available for individual consultations.
Some of the alternative therapies offered include deep tissue massage, back pain massage therapy, QXCI/SCIO Biofeedback therapy, MicroCurrent therapy, anti-aging therapy, and many more. For a summary of the personal therapy options available and the health conditions they address, please check out Rev. Brian's "Muscle Menders" downloadable brochure written in both English and Spanish. Whatever the condition you are trying to address, or the specific health improvement you wish to achieve, it will be worth your while to contact Rev. Brian to arrange a personal consultation. His experience across a wide range of healing modalities and his exceptionally high success rate in helping people to heal difficult conditions, has resulted in the elimination of chronic pain and a significant improvement in the quality of life for the majority of his clients.
Online Massage/Bodywork Video Training Available Soon
There are plans to expand The Healing Academy to provide an online training platform, complete with detailed "members only" video training on a variety of massage and bodywork techniques, MicroCurrent therapy, and a myriad of other popular natural healing modalities. We also plan to offer live on-line webinars to registered students, allowing real time interaction between between students and teacher. We recognize the massive growth in the popularity of online training programs of every kind and The Healing Academy wants to be your first choice for convenient access to the best online training for natural healing therapies on the internet!
Browse Our Website And Explore Our Natural Healing Courses
Please visit the Healing Academy Articles page to discover more about what is possible with Rev. Brian's unique set of healing modalities, and his amazing natural instinct for "listening to Source" and "tapping into the body" in order to target the precise areas that require attention. You may also want to view our testimonials page, which contains a small sampling of the happy stories our clients have to tell, as well as some background information on Rev. Brian.
May we suggest that you did not discover the Healing Academy by chance - everything happens for a reason and a purpose. It is very possible that you are destined to visit this very special place to learn how to be a better healer, or to enhance your health with a personal therapy session with Rev. Brian. Allow yourself to investigate the possibilities for improved healing skills in your own healing practice, or simply a more vibrant pain-free state of health for yourself and your family.
The Origins of Healing Academy with The Founder Brian Whitehead
Copyright © 2016 HealingAcademy.com | Articles | Testimonials | Disclaimer | Sitemap